Sotanghon at Upo Soup is a healthy, delicious, and hearty comfort food to keep you warm and toasty on rainy days! It's easy to prepare, economical, and can be enjoyed on its own or as a main dish with hot steamed rice.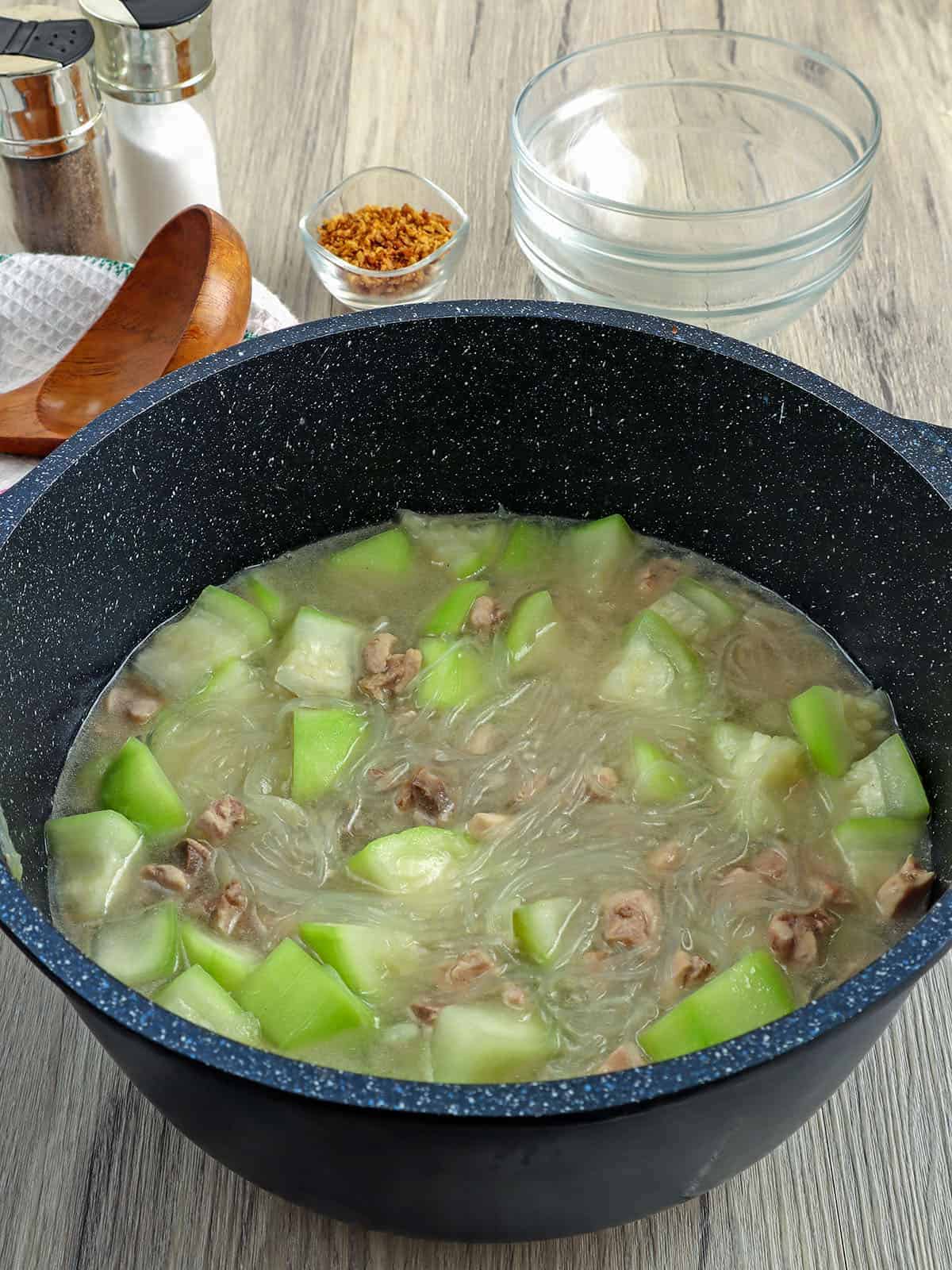 Ingredients

How to prepare upo

Cooking tips

How to serve

How to store leftovers

More upo recipes

Sotanghon at Upo Soup
Sotanghon soup with upo is one of my favorite ways to keep warm on cold winter or gloomy rainy days. Not only is it hearty and comforting, but also easy to prepare and quick to cook. I can be out of the kitchen cozying up to a piping hot bowl in no time!
Plus, it's budget-friendly and versatile as you can easily switch up the protein with whatever you have on hand. I've tried ground pork, minced shrimp, or beef meatballs with equally delicious results.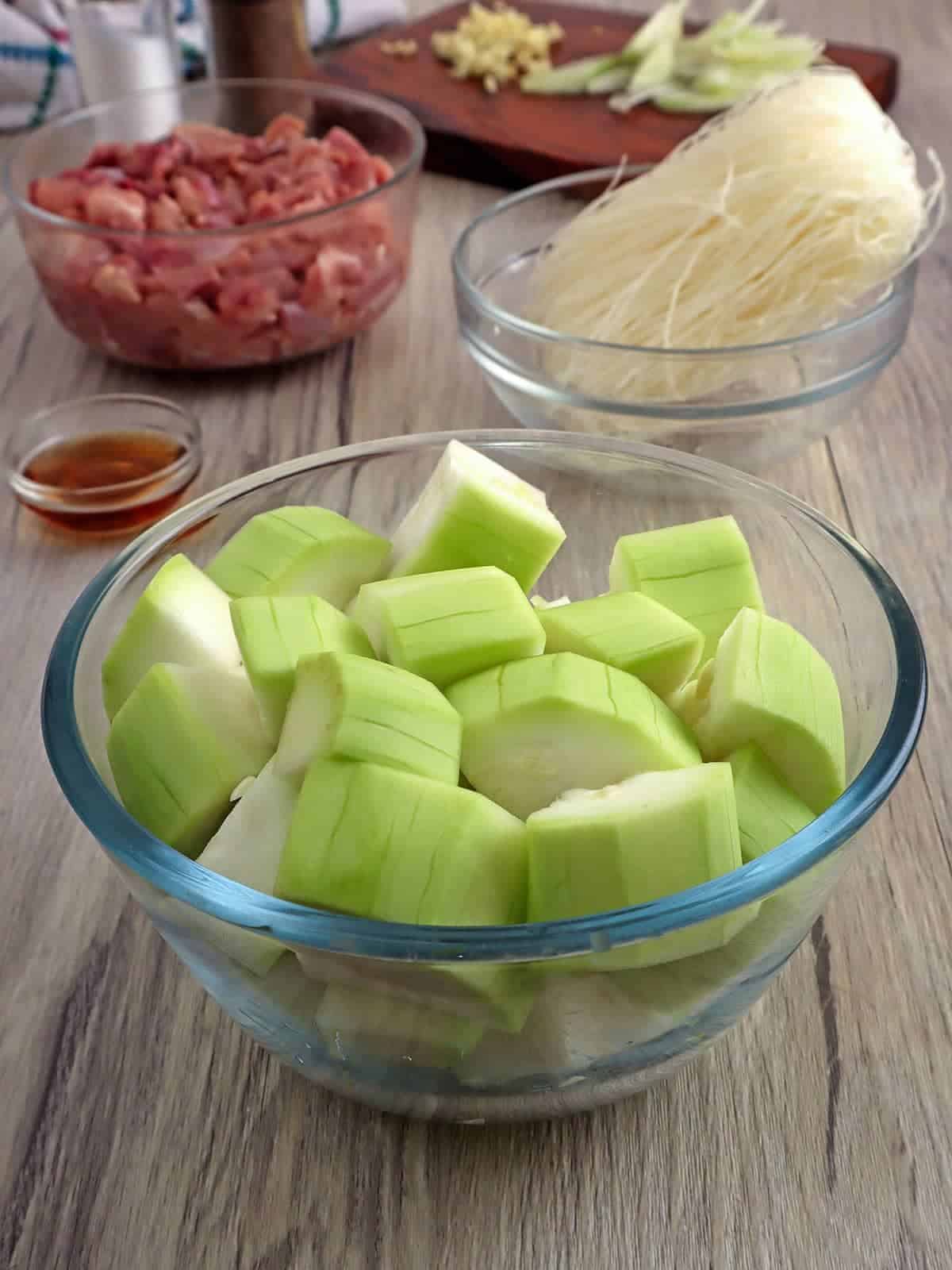 Ingredients
Upo-from the calabash family, it's called bottle gourd in English owing to its elongated shape. It has a delicate flesh that only needs a few minutes to cook.
Sotanghon– also known as cellophane, glass, or mung bean thread noodles, is a type of clear noodles made from potato, mung bean, sweet potato, or tapioca starch and water. They're usually packaged in dried form and then softened in hot liquid to use in stir-fries and soups
Boneless chicken thighs – they are easier to cook and do not dry out as easily as breasts. Chicken thighs are more tender and flavorful, while chicken breasts are leaner and have lower fat content.
Fish sauce– adds umami flavor. Replace with salt to taste, if desired.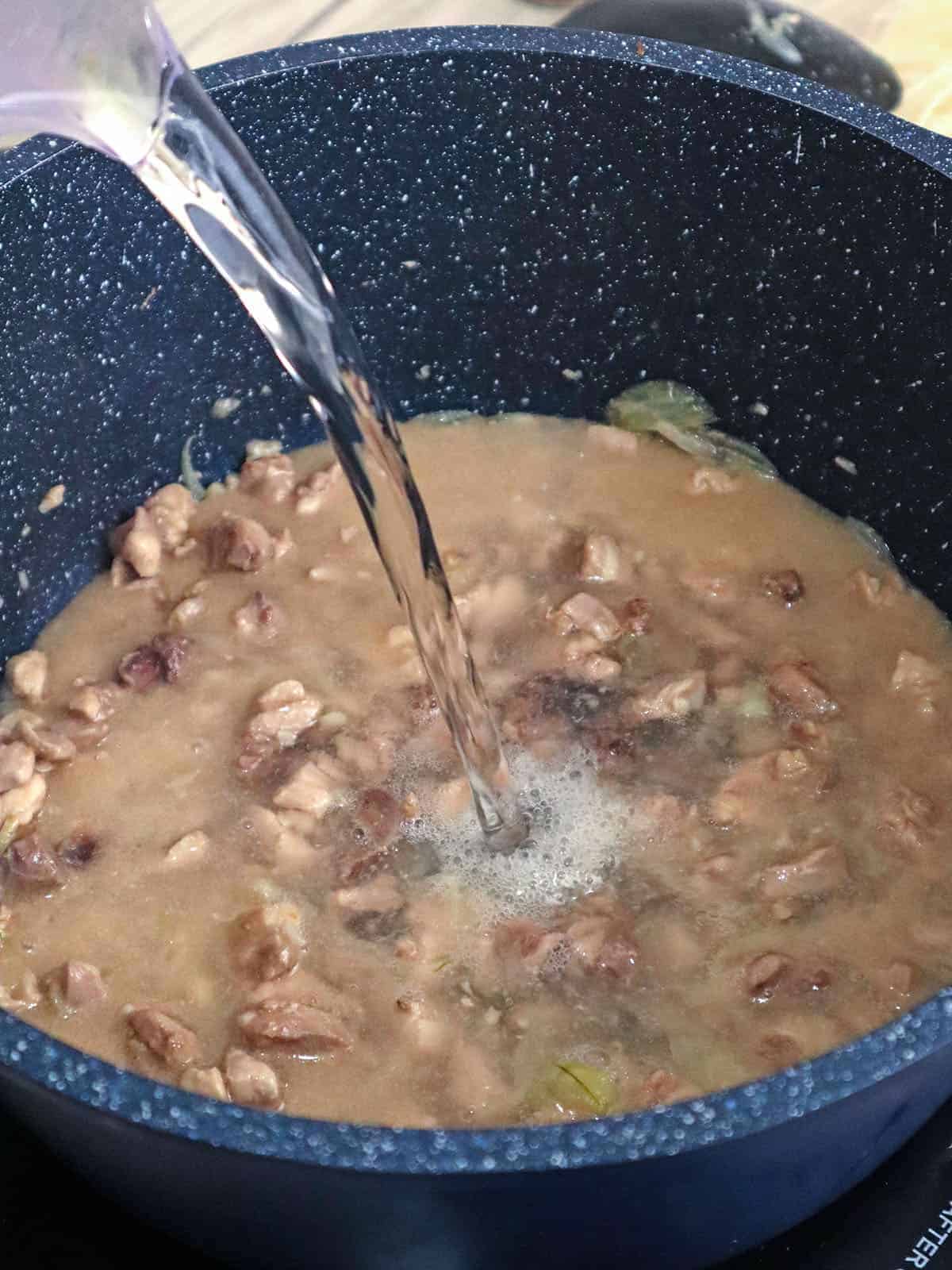 How to prepare upo
Upo is easy to prepare and cooks quickly. And it's relatively inexpensive and low-calorie to boot!
Wash under cold running water and cut off the stem end with a knife.
Peel the skin with a vegetable peeler by running down the gourd lengthwise. With a knife, cut the peeled upo lengthwise.
If the interior is "too spongy" and has large, hardened seeds, remove the spongy flesh using a spoon and discard.
Slice into 1-inch cubes. Use in the recipe as directed.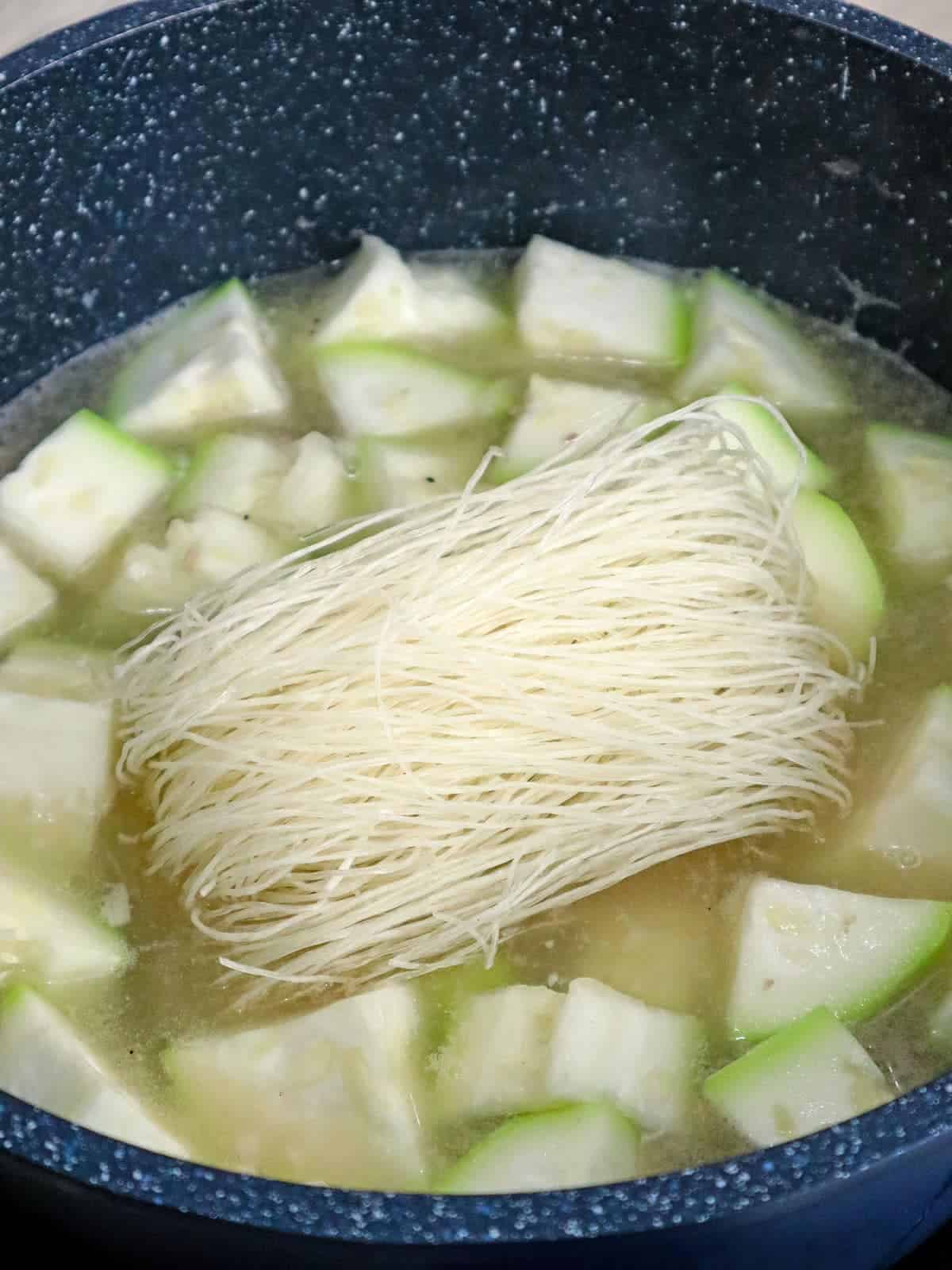 Cooking Tips
Choose young bottle gourd or calabash. As the vegetable matures, the edible seeds lose some of their tenderness and the center flesh becomes too spongy and too mushy when cooked.
Cut the gourd into uniform size to ensure even cooking. For best texture, do not cover during cooking as the upo will expel a lot of liquid. Take off from the heat while still tender-crisp as it will continue to cook in the residual heat.
There's no need the sotanghon as they cook rather quickly. Just add the dry coils and push them down in the hot broth to soften.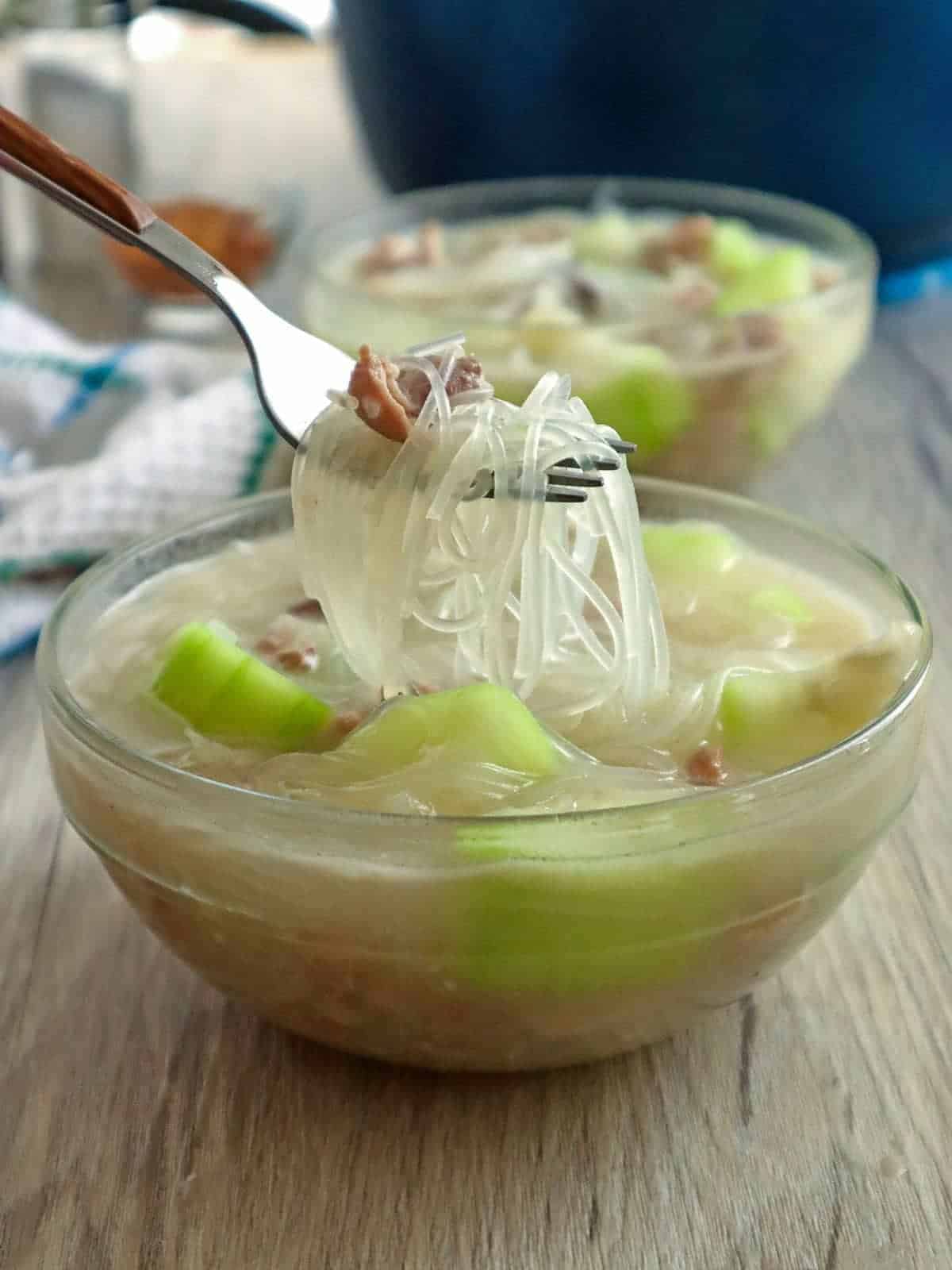 How to serve
This sotanghon at upo is delicious on its own or as a main dish for lunch or dinner with steamed rice and your favorite meat or fish.
I like to enjoy a piping hot bowl topped with fried garlic bits, but you can also use garnish with chopped green onions, crispy fried shallots, or even add a hard-boiled egg.
How to store leftovers
Due to the nature of the ingredients, this soup does not store or freeze well. It's best freshly cooked as the sotanghon tends to soak a lot of the broth and the upo gets mushy over time.
If you do have leftovers, transfer to a container with a lid and refrigerate for up to 3 days.  When reheating, add more water and adjust the taste with fish sauce or salt.