Sotanghon at bola-bola soup is made of juicy meatballs, cellophane noodles, cabbage, and celery for a hearty and filling main or side dish. This Filipino-style noodle soup is a delicious way to warm up in cold weather and sure to be a family favorite.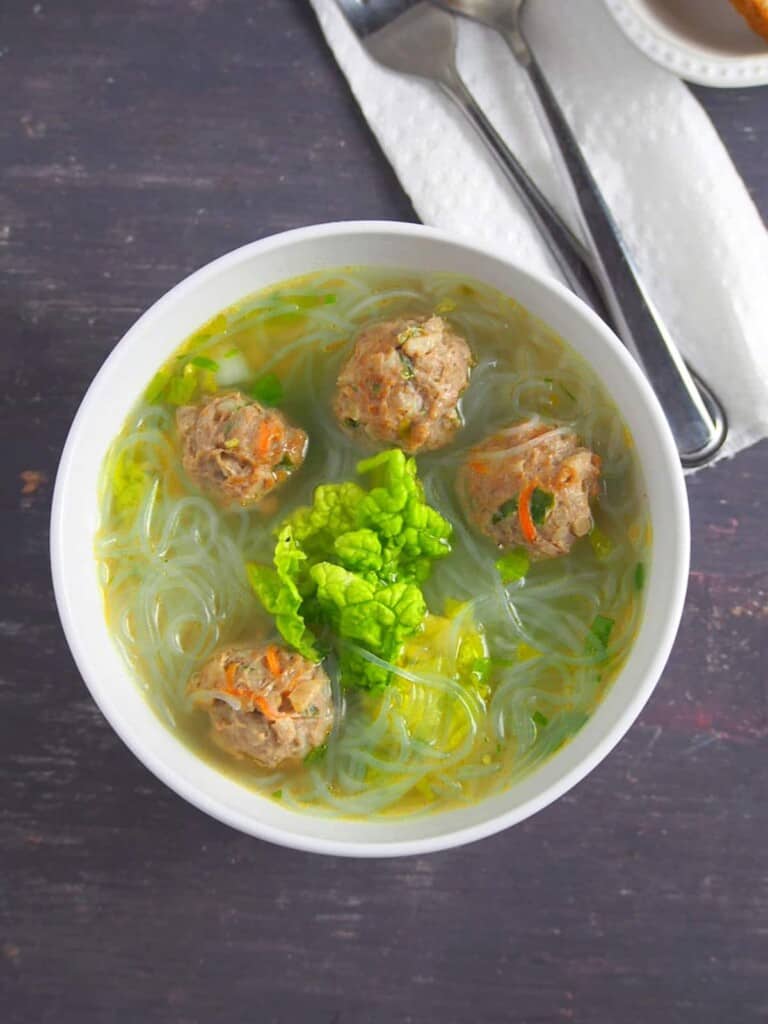 Meatball ingredients

Cooking tips

How to serve and store

More soup recipes

Sotanghon at Bola Bola Sopas (Cellophane Noodles and Meatball Soup)
When I make lumpiang shanghai, I usually make twice the meat filling. These Filipino-style spring rolls freeze well and are perfect for days when I am too pressed to prepare anything elaborate for lunch or when guests drop by impromptu.
But mostly, I keep the filling handy and ready in the freezer for other meal ideas.  This sotanghon at bola-bola soup is only a matter of defrosting the meat mixture, shaping it into balls, and a quick twenty minutes on the stove. I get a delicious and satisfying meal to enjoy in no time.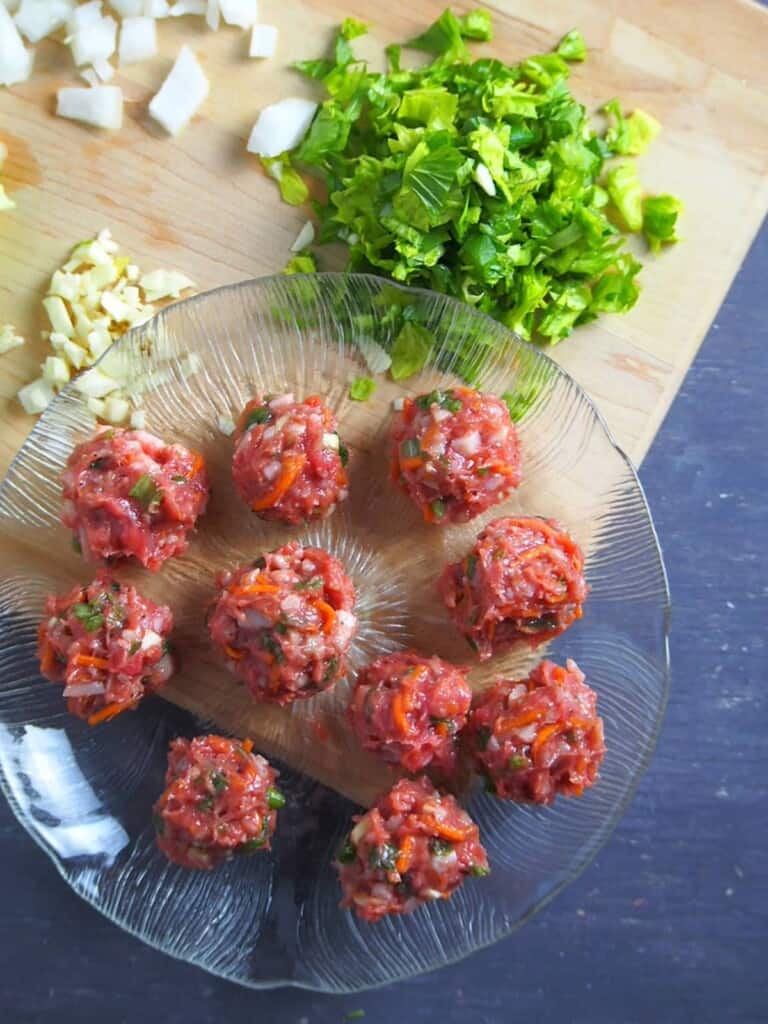 Meatball ingredients
Ground chicken– ground pork, beef, or turkey are also good options. You can also add minced shrimp to boost flavor.
Green onions, water chestnuts, and shredded carrots– adds color, texture, and extra nutrition. You can add or substitut chopped shitake mushrooms, parsley, or cilantro.
Soy sauce– adds umami flavor
Salt and pepper– season to taste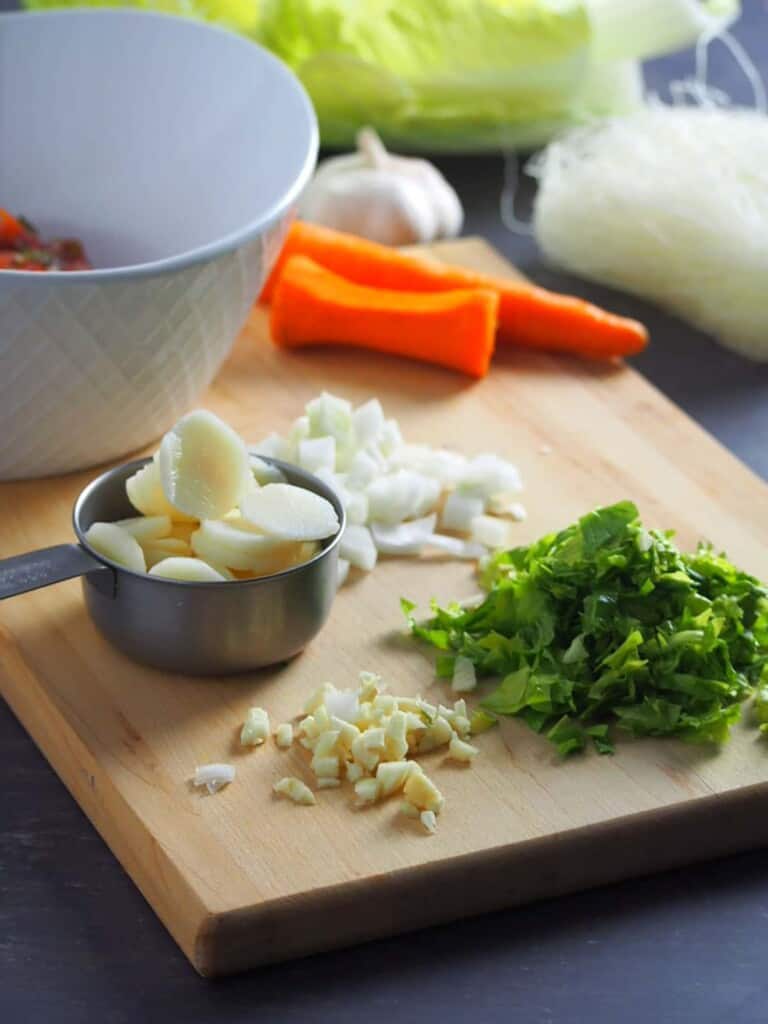 Cooking Tips
The recipe uses napa cabbage and kinchay (Chinese celery), but you can also add other vegetables in season such as patola, upo or chicharo (snow peas).
Make sure the water is boiling before adding the meatballs to keep from falling apart.
You use atsuete /annatto to add color. Soak about 1 tablespoon atsuete seeds in about 1 cup warm water go extract color and then strain in a fine-mesh sieve. Discard seeds and add annatto water to the soup.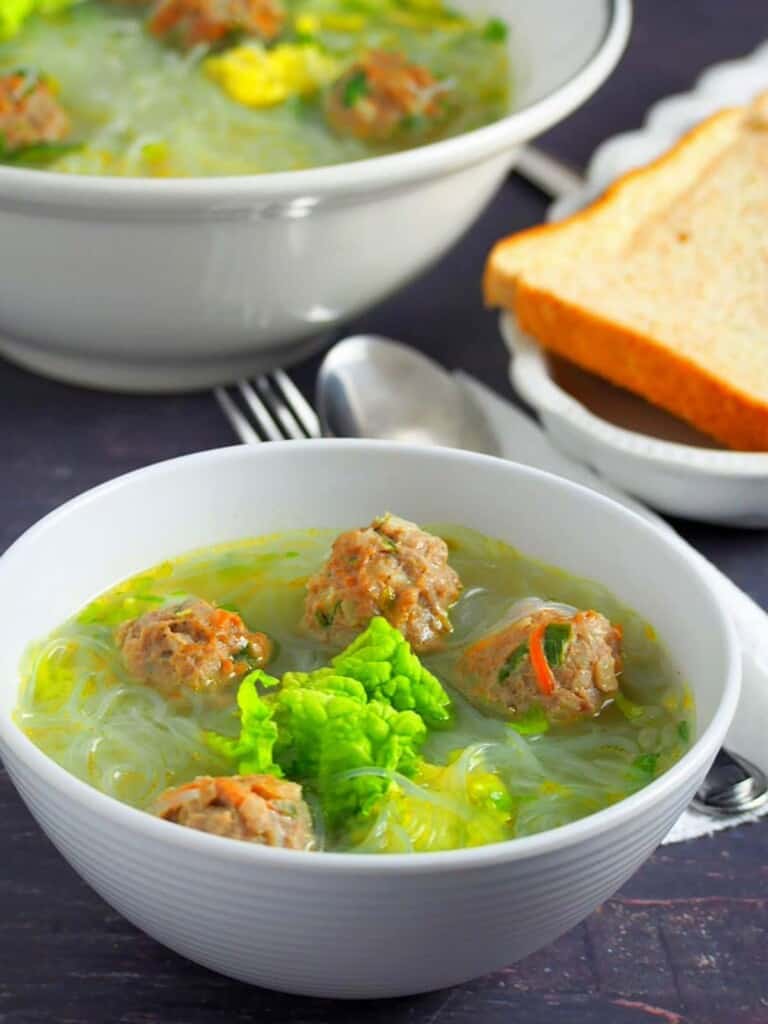 How to serve and store
Serve the soup on its own or with puto or pandesal for a midday snack. It's also delicious for lunch or dinner as a main or side dish with steamed rice and fried fish or meat.
For best results,  enjoy the soup freshly cooked as the sotanghon tends to absorb liquid and soften as it stands.
To store leftovers, allow to cool completely and transfer in a container with a tight-fitting lid. Refrigerate for up to 3 days. This noodle dish does not freeze well.
To reheat, place in a saucepan, add more water and adjust seasonings as needed. Heat to an internal temperature of 165 F.