Panda Express Sweet Fire Chicken Copycat is a delicious medley of sweet, and tangy. and spicy that tastes just like the original, if not better. It's so easy to make and cheaper than eating out!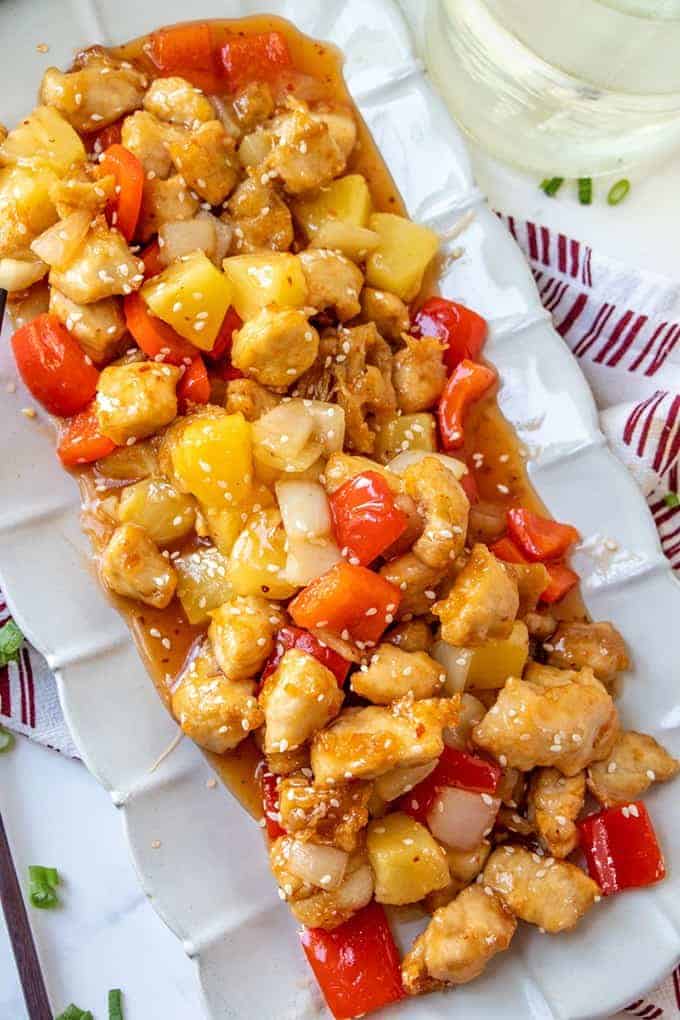 One of the things I find so much fun about food blogging as a living is the challenge of recreating restaurant favorites at home. Although often involving a series of trial and error, it's very rewarding to come up with a homemade version that's pretty close to, if not better, than the original.
If I may, ahem, say so myself, I've had a number of successes with copycatting recipes. Below are a few of my favorites if you'd like to check them out.
Salt and Pepper Pork Chops-tender meat, crisp coating, full flavor, these fried pork chops are just like what you'd get from a Chinese restaurant!
Baked Cheese Shrimp-these shrimps are what I beeline for every time I go to the all-you-can-eat Japanese restaurant, Hokkaido, in Long Beach and I am glad I no longer have to make the trip to enjoy their cheesy, gooey awesomeness.
Fried Chicken a la Max's Restaurant-although it takes a bit of work, this delicious-to-the-bone fried chicken gives the iconic Filipino restaurant a run for its money.
Ginataang Gulay-the Magic Wok restaurant which inspired this recipe is just a hole-in-a-wall type of place in Cerritos but, in my humble opinion, serves the best Filipino food that side of California so I was pretty stoked that I was able to re-create one of the most popular dishes on their menu at home.
Panda Express Firecracker Chicken Copycat-this popular Chinese restaurant chain was one of our favorite take-out places before G and I decided to be more sensible with our cents and refrain from eating out. I am glad I can now enjoy the big, bold flavors of their firecracker chicken for less.
Green Bean Chicken and Black Pepper Chicken-ever wonder why the meat in Chinese stir-fries always comes out super moist and tender? The secret is out and it's velveting!
And now, the latest on the list, Panda Express sweet fire chicken copycat!
How do I even begin to describe this delectable dish?  First, there's the sauce. It has the delicious flavors of your classic sweet and sour, but with a kick of heat from the addition of sweet chili sauce.  Sweet, tangy,  slightly spicy. and soo good, you can eat it with a spoon!
Sauce ingredients
pineapple juice-for fruity and tangy tastes
sweet chili sauce-adds sweetness and spice
cornstarch-thickens the consistency
And then there's the tender-crisp bell peppers and onions, juicy pineapples, and crunchy chicken morsels.  Smothered in the sweet fire sauce, they're pure heaven piled high on steamed rice!
Battered chicken for stir-fry
The cornstarch and egg white batter does two things. It gives the chicken a crispy yet light coating as well as keeps it moist and tender through the velveting process.
The recipe calls for chicken breast, but boneless dark Cut the chicken in uniform, bite-size pieces to ensure even and fast cooking.
For best results, use enough and the right kind of oil for deep-frying such as safflower, peanut, grapeseed, or canola oil.
Maintain the optimal temperature of 350 F to 375 F when deep-frying. Do not overcrowd the pan and cook in batches as needed to allow enough space to move the chicken freely and to keep the oil temperature from plummeting.
How to serve
Serve with fried rice and chow mein noodles for a full Chinese takeout experience!
To store leftovers, allow to cool completely and transfer to an airtight container. Keep in the refrigerator for up to 3 days or in the freezer for up to 2 months.
Reheat in the microwave at 2 to 3-min intervals until completely heated through, stirring well between intervals.
For make-ahead meals, store the sauce and the meat and veggies in separate containers. When ready to serve, combine everything together in a wide pan and cook to an internal temperature of 165 F.