Try our classic Filipino stew made easy in the pressure cooker. This Instant Pot Chicken Adobo comes together in under an hour and turns out tender and full of flavor. Pair with steamed rice for the perfect weeknight dinner!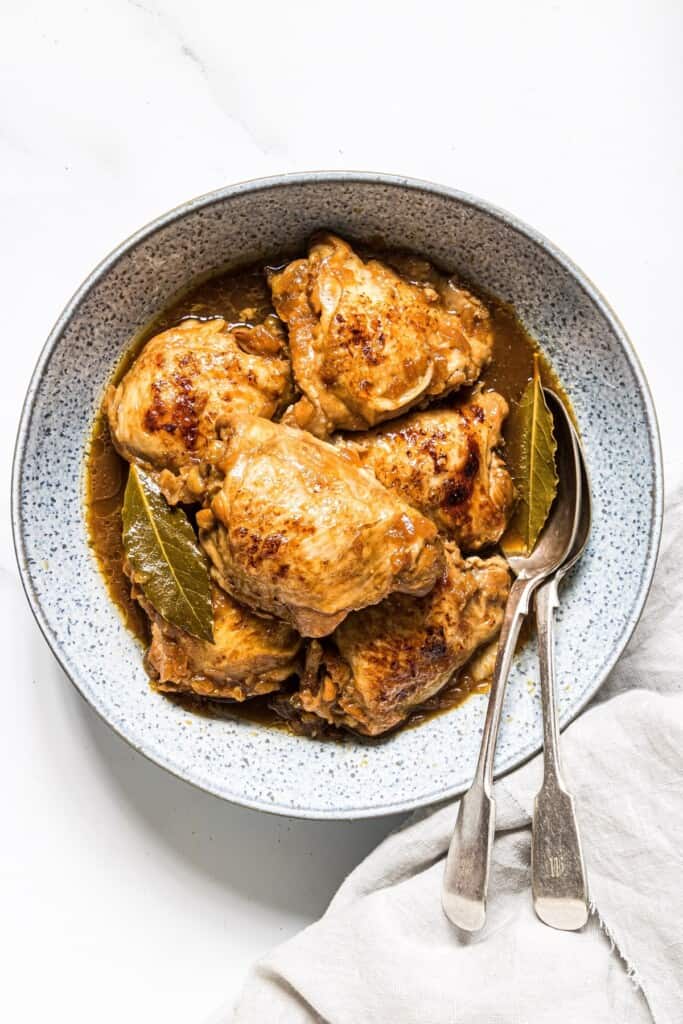 List of ingredients

How to cook adobo in the pressure cooker

How to reduce the sauce

How to brown the chicken

Serving suggestions

More Instant Pot recipes

Instant Pot Chicken Adobo
To be perfectly honest, I don't really use my Instant Pot to make chicken adobo at home. This kitchen gadget is meant to cut down cook time, and it doesn't make sense to dig for it in the deep recess of my cabinet for a dish that cooks pretty quickly.
By the time the IP comes to pressure, the chicken adobo would have been just about done on the stovetop. So why even bother with this recipe?
Well, I realized cooks love the Instant Pot not only for its time-saving element but also because it's multi-purpose and great for limited spaces. If you're a student in a college dormitory, traveling in an RV, or simply want a no-fuss meal, this pressure cooker version is the perfect way to satisfy your adobo cravings!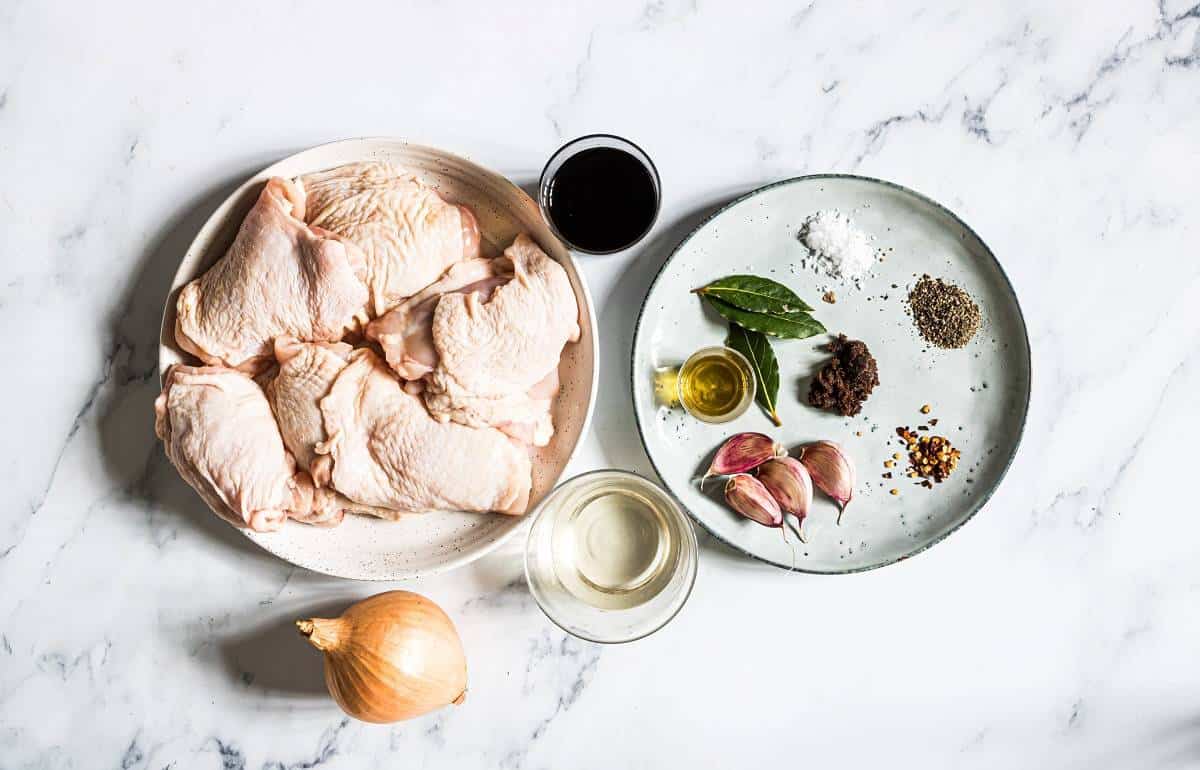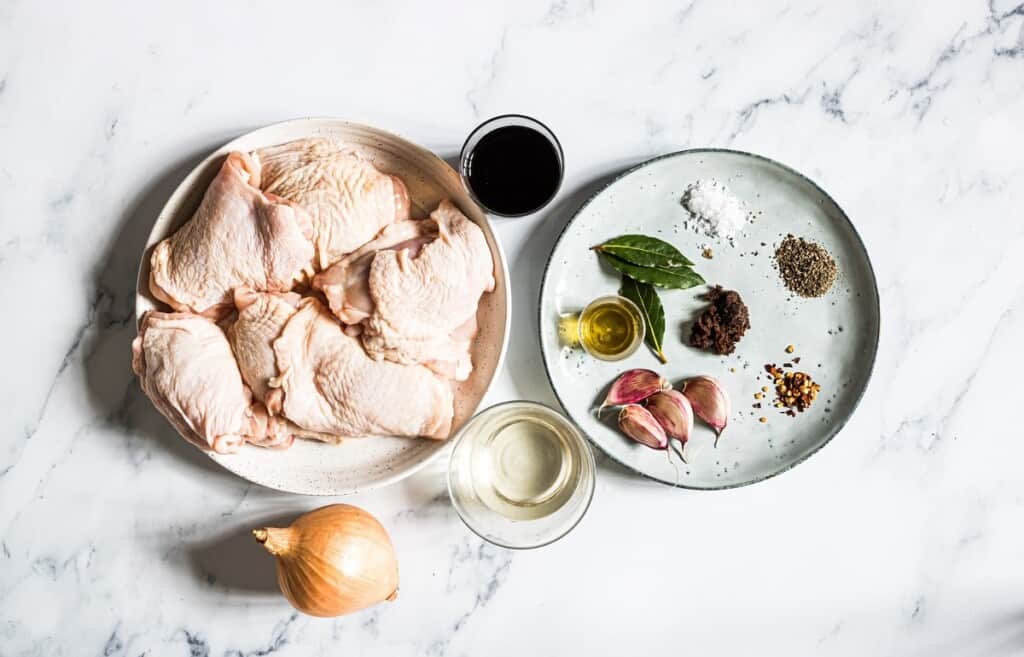 List of ingredients
Canola, vegetable, or olive oil– for sauteing
Chicken thighs – skin-on and bone-in are best for this recipe; you can also use a combination of thighs and legs, or a whole chicken cut-up into serving parts
Vinegar– while distilled white, apple cider, or rice vinegar will work in a pinch, sugarcane vinegar yields a mellow and more authentic adobo taste
Soy sauce– use a Filipino brand if you can for best results
Onions, garlic, and bay leaves
Salt and pepper– seasoning; add to taste
Red chili flakes– adds a hint of spice; you can omit if you don't like a bit of heat or substitute minced chili peppers if you don't have dried chili flakes on hand
Brown sugar– balances the tang with sweetness; optional
How to cook adobo in the pressure cooker
Using the SAUTE feature set on NORMAL, heat about 1 tablespoon of oil. Add the onions and garlic and cook until softened.
Cancel the SAUTE function. Add the chicken and the rest of the ingredients. Season lightly with salt as the taste will concentrate when the sauce is reduced.
Close the lid making sure the valve is on SEALING position and cook on HIGH pressure for 14 minutes. Do a natural release and carefully open the lid.
Enjoy as is or proceed to broil the chicken and reduce the sauce for a more intense flavor.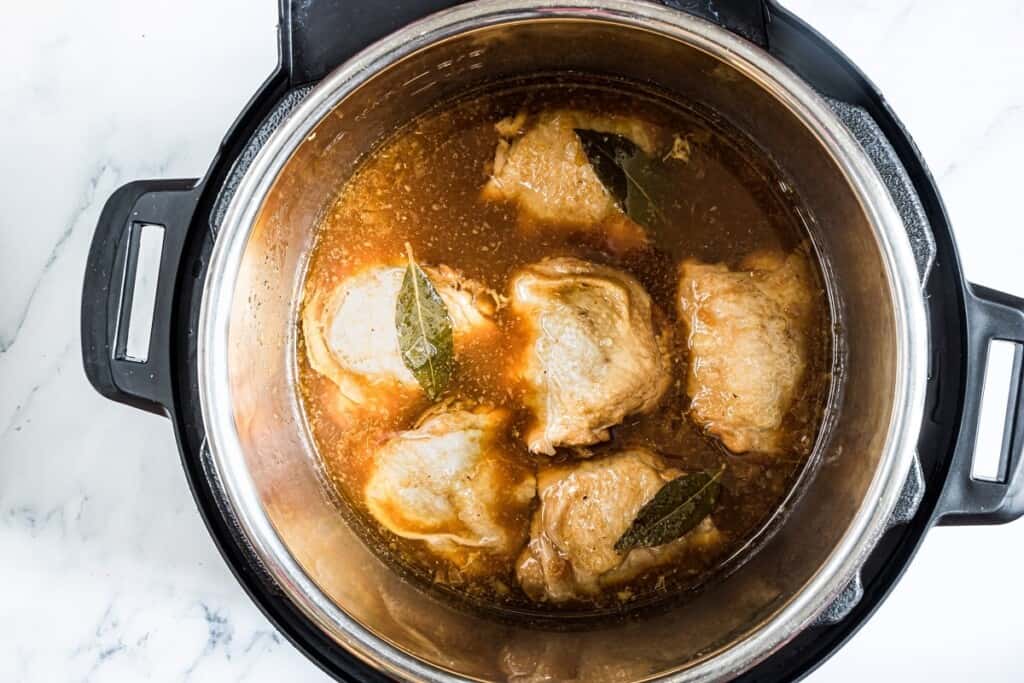 How to reduce the sauce
There's not a lot of evaporation because of the Instant Pot's sealing mechanism and the chicken will be swimming in the liquid mixture. It's ready to enjoy if you like a lot of sauce to spoon over rice or you can reduce it using the SAUTE function if you want to concentrate the flavor.
Remove the chicken so they don't over cook and fall apart in the sauce.
For a less greasy sauce, use a fat separator or a spoon to skim off the fat.
Turn on the SAUTE feature on NORMAL and simmer the liquid for about 10 to 15 minutes or until nice and thick.
Adjust the seasonings with salt and pepper if still needed.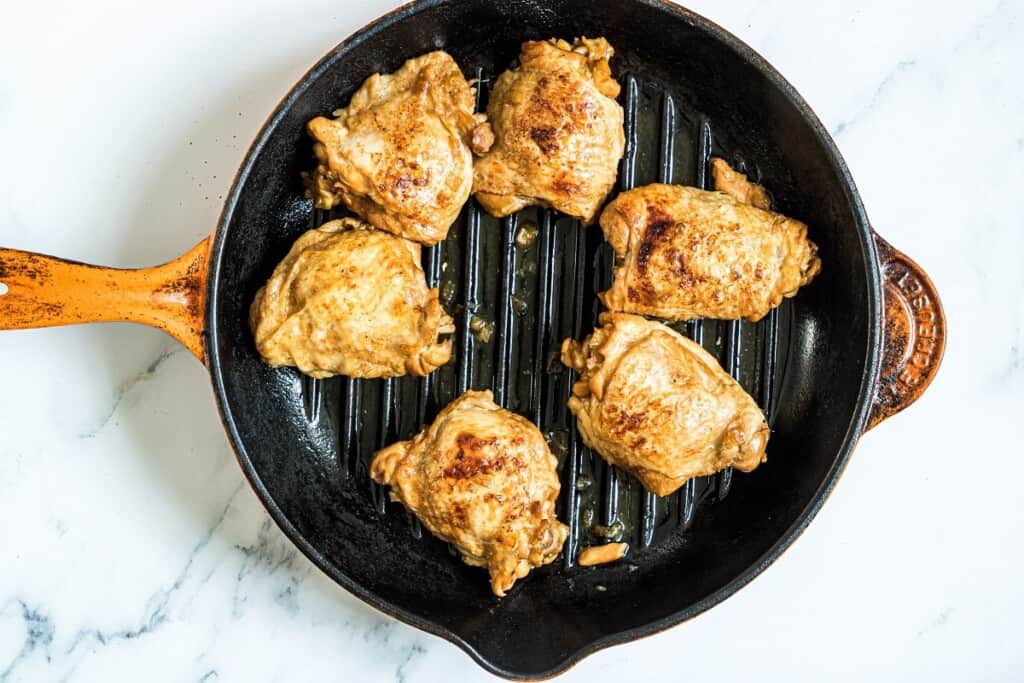 How to brown the chicken
There are two ways to give the chicken a more appetizing brown color and each method have their own advantages.
Use the IP's SAUTE feature-when the onions and garlic have softened, add the chicken in a single layer and cook, turning as needed, until lightly browned. After the natural release, remove from the pot and keep warm while the sauce is reducing. This method is more convenient as the adobo cooks entirely in the pressure cooker and there's no need to dirty another pan.
Broil in the oven– this is the method we used in the recipe. Cook the chicken in the Instant Pot. Once done, remove the chicken and transfer to a grill pan. Broil skin side up for about 2 to 4 minutes or until crispy. Reduce the sauce in the Instant Pot and drizzle on the chicken when ready to serve. It requires another pan to wash but the reward is a more delicious, crispy chicken!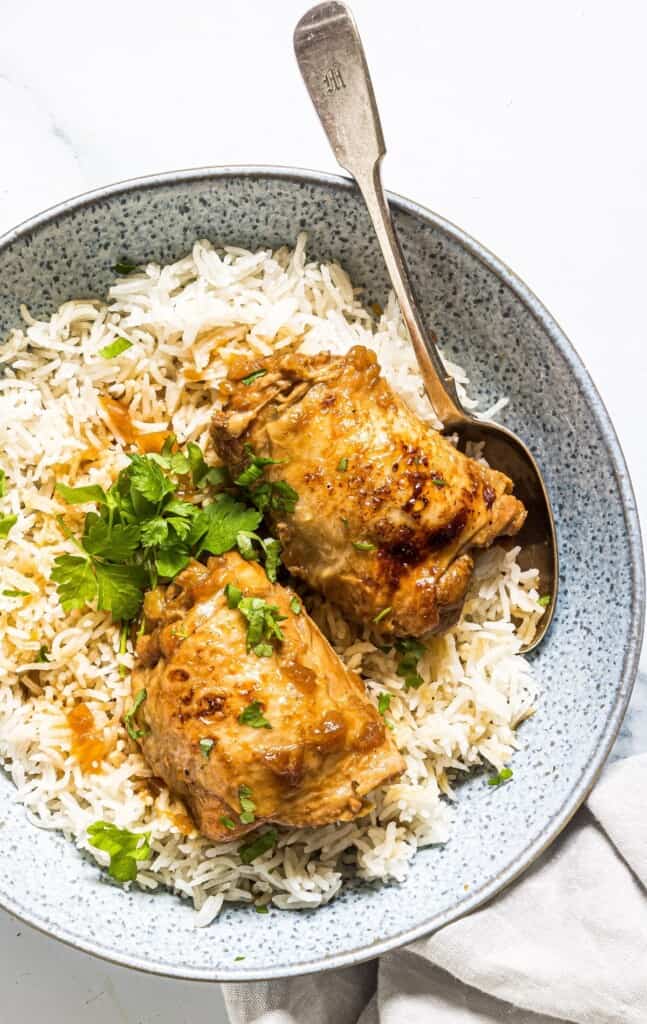 Serving suggestions
This Instant Pot chicken adobo is delicious as a main dish for lunch or dinner. Serve with steamed rice or low-carb options such as quinoa or cauliflower rice.
Store leftovers in a container with a tight-fitting lid and refrigerate for up to 3 days or freeze for up to 2 months.
Turn leftovers into a hearty adobo fried rice for breakfast. Coarsely shred the meat and toss in a hot pan with the day-old cooked rice and a bit of sauce until toasty.