Chicken Bicol Express has all the flavors you love of the classic Bicolano pork dish but is quicker to make, healthier, and more budget-friendly. It's creamy, spicy, and delicious with steamed rice!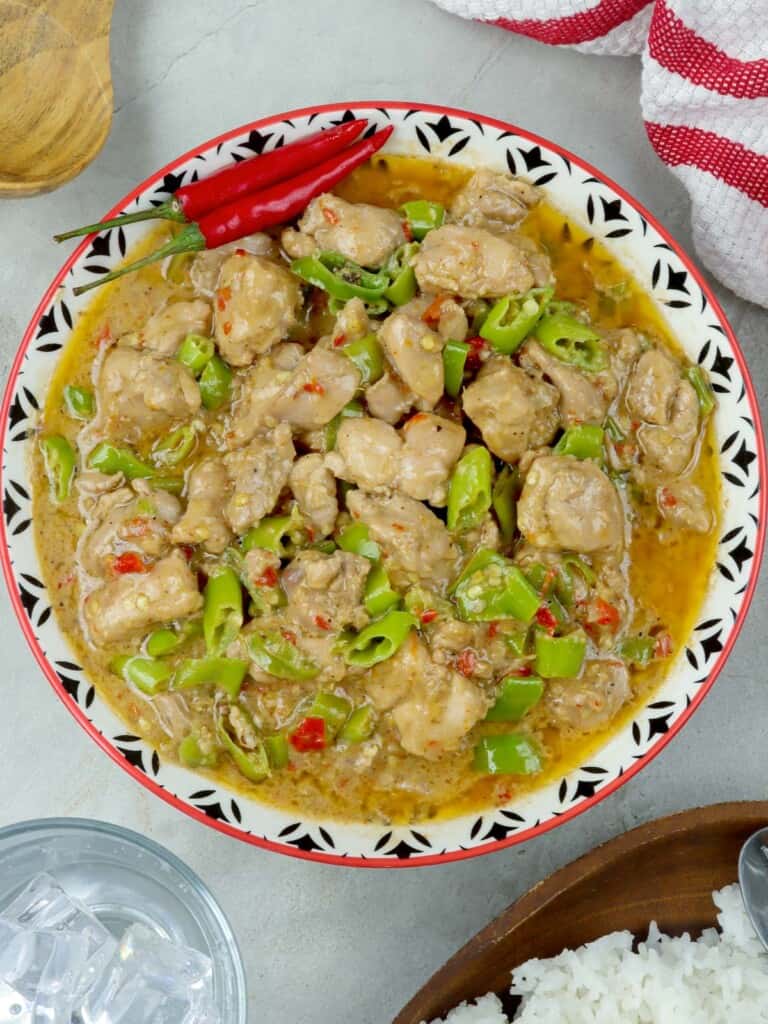 Cooking tips

How to serve and store

Chicken Bicol Express
Chicken Bicol Express is a delicious take on the classic Bicol Express wherein boneless chicken meat replaces the usual pork cubes. It delivers the same big, bold flavors you love in the traditional version yet is a slightly healthier and more budget-friendly option.
Like the pork version, bite-sized chicken pieces are first sauteed in aromatics and shrimp paste and then stewed in coconut milk and copious amounts of chili peppers. The resulting dish is gloriously rich, creamy, spicy, and perfect with generous heaps of steamed rice!
This Bicol Express with chicken is easy to make with simple ingredients and in under an hour. You'll have a fantastic dish ready in no time!
It makes a great weeknight dinner meal as well as a delicious addition to any special gathering.  The recipe can be easily doubled (or tripled) to feed a crowd and is sure to be a party hit!
Cooking Tips
The recipe calls for boneless, skinless chicken thigh meat but I imagine bone-in would work as well. Just cut the chicken parts into smaller pieces (be careful with the bones!) so you get more surfaces coated in the yummy sauce.
If you'd like to tame the heat, use fewer peppers or scrape off the seeds before chopping to get the flavor of the chilis without a lot of spice.
The recipe uses sauteed shrimp paste. If you're in the U.S. and have only access to the bottled "neon pink" shrimp paste, you might want to rinse it and drain well before using in the recipe to rid of the extra saltiness and the bright color that might otherwise bleed into the dish.
For a smooth, creamy sauce, cook in a simmer as boiling the coconut milk or heating it too quickly will make it curdle or separate.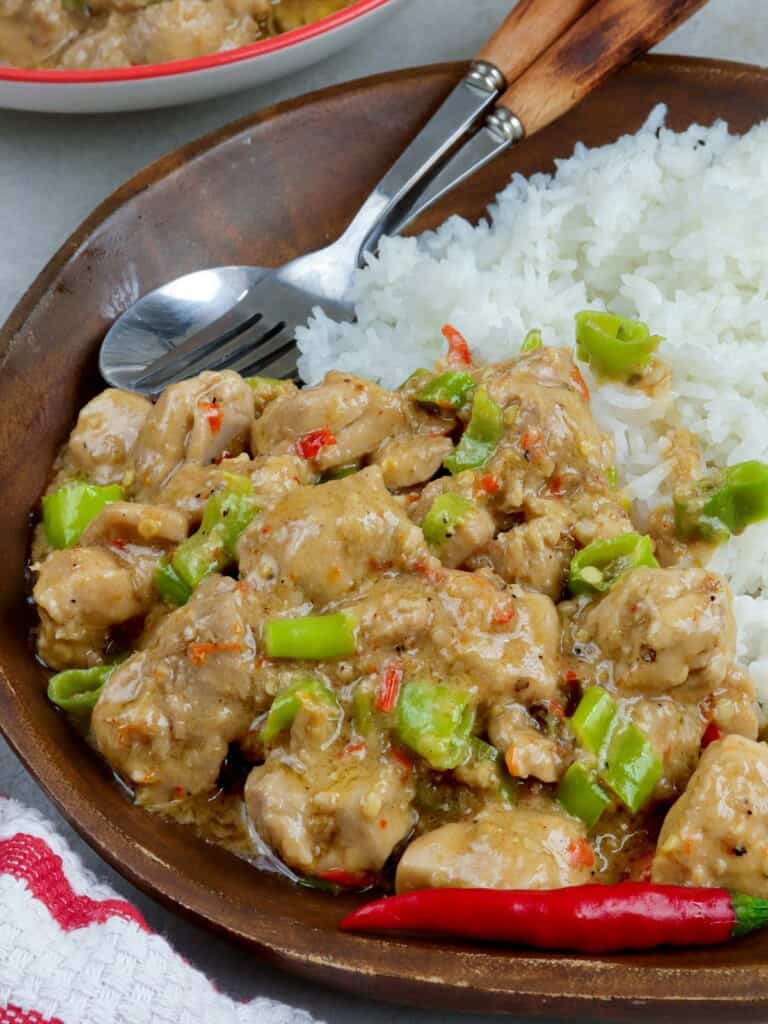 How to serve and store
Chicken Bicol Express is delicious as a main dish for lunch or dinner. Enjoy it with steamed rice to complement the creamy, spicy flavors!
As it contains coconut milk, it spoils quicker than most foods especially in warmer weather. Refrigerate leftovers up to 3 days or freeze for up 2 months.
Reheat in a saucepan to 165 F or microwave at 2 to 3-minute intervals until completely warmed through.