Chicken a la King made with poached chicken, mushrooms, sweet peppers, and heavy cream is comforting food at its best! Rich, creamy, and made from scratch, it's delicious served over rice, pasta, or bread.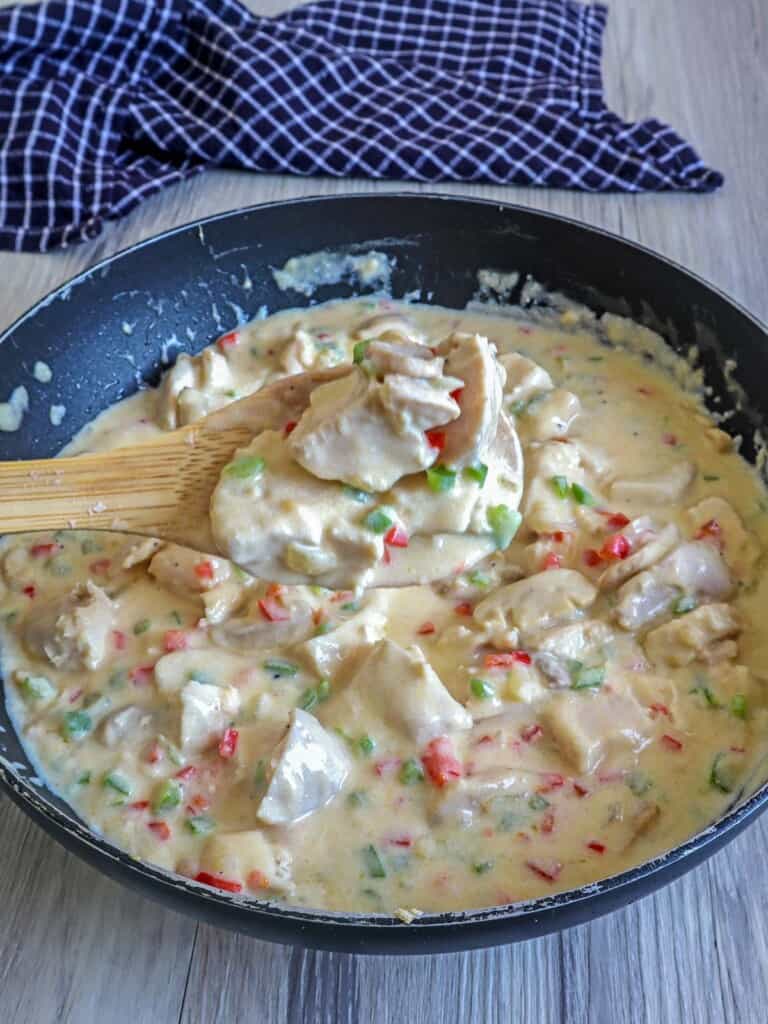 Techniques for super tender chicken

Cooking tips

How to serve and store

More chicken recipes

Chicken a la King
Chicken is my favorite protein ingredient. I love that it is so convenient to use and versatile enough to be enjoyed in many ways.
However, the boneless and skinless breast part which has very little fat can prove tricky to prepare. There's but a fine line between moist, succulent pieces and dry, stringy meat.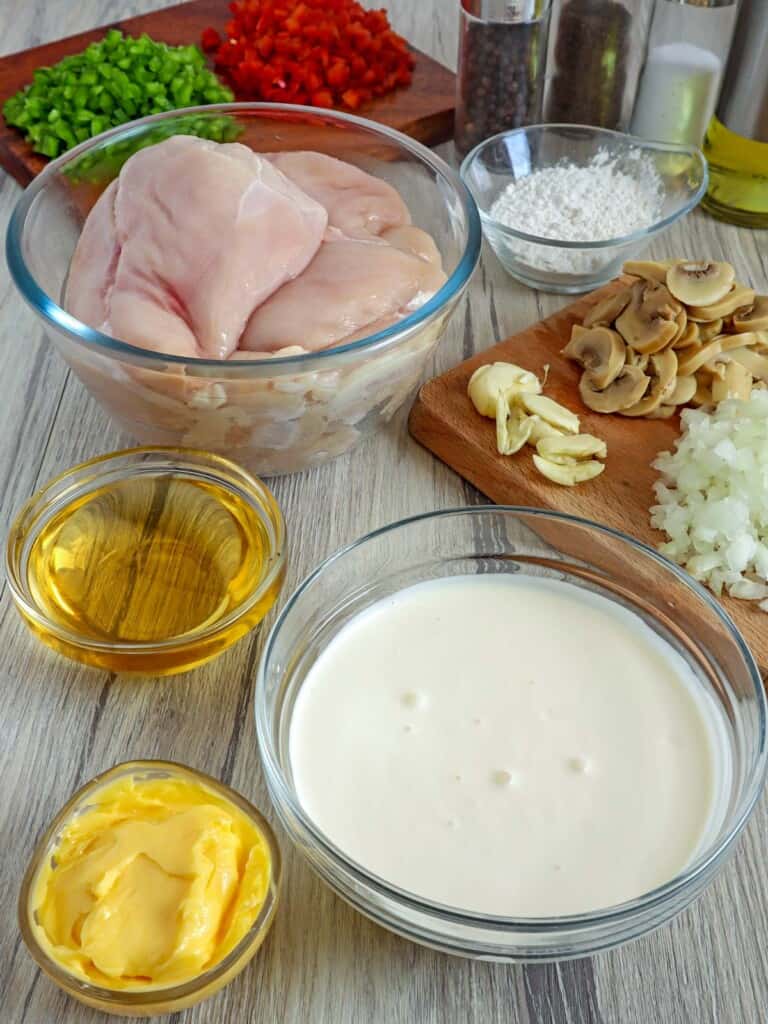 Techniques for super tender chicken
For my stir-fries, I like to velvet to keep the meat moist and juicy
For sandwiches and casserole dishes such as this chicken a la king, I like taking the extra step of poaching.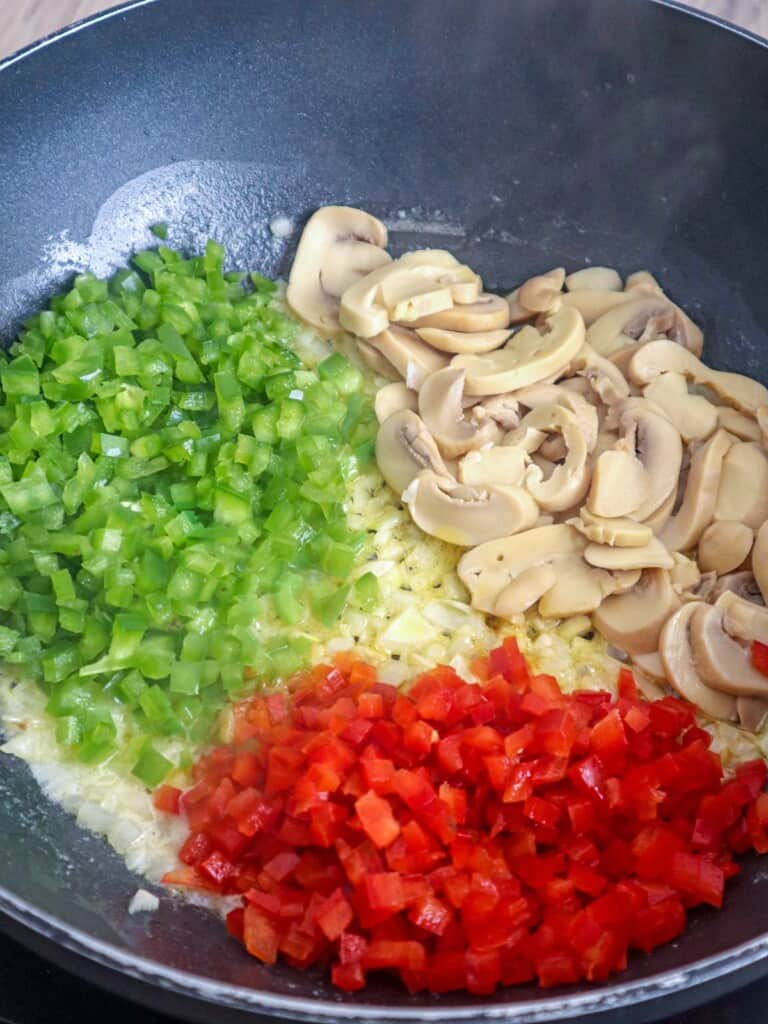 Poaching is a form of cooking where eggs, fish, fruit, and poultry are covered and gently simmered in liquid until cooked through. This low heat, moist-cooking method prevents food from overcooking too quickly and helps to retain moisture.
The chicken comes out juicy, flavorful, and the perfect slate to the rich and creamy white sauce!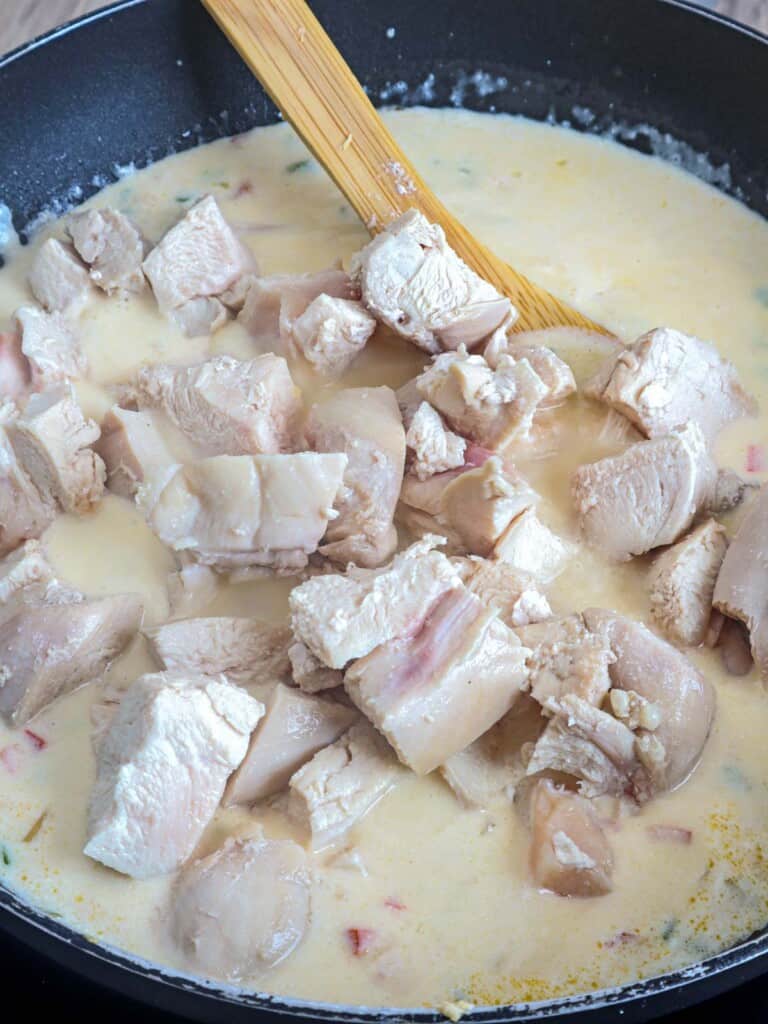 Cooking Tips
Saute the vegetables in butter for amazing flavor.
For best results, I highly suggest poaching the chicken breast but feel free to use any cooked chicken such as a rotisserie, baked or grilled, you have on hand. Just debone and cut into 1-inch pieces.
For extra nutrition, color, and texture, add frozen green peas, peas, and carrots, or mixed vegetables.
I use heavy cream to make the bechamel sauce but evaporated milk, half and half, or whole milk are also good options.
For a smooth consistency, cook the sauce at a low and gentle heat so the cream doesn't curdle or separate.
Want variety? Swap the chicken meat with quality canned tuna packed in water (go for albacore!).
Add a few dashes of cayenne or red pepper flakes if you want to spice it up.
Cook the sauce a little thinner than you like as it will thicken as it stands.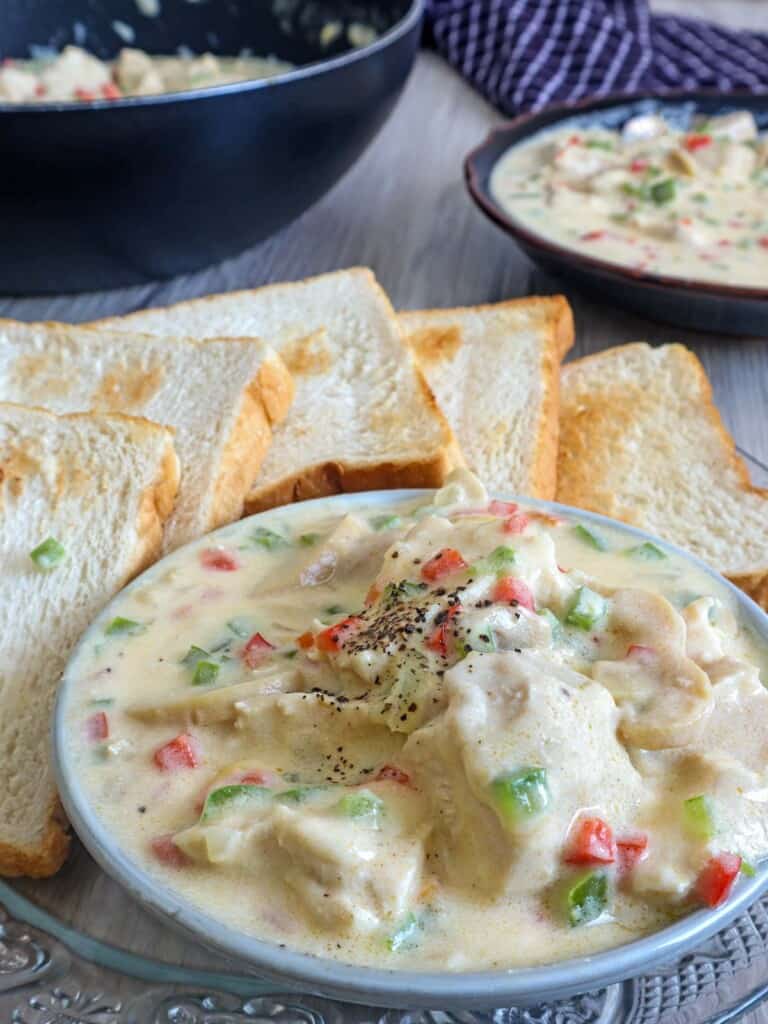 How to serve and store
Serve for lunch or dinner over steamed rice, noodles, or toasted bread. This creamy chicken dish is also delicious as an appetizer ladled in a tortilla, phyllo, and pie cups.
Allow leftovers to cool completely and store in airtight containers or resealable bags. Refrigerate for up to 3 days or freeze for up to 3 months.
Reheat in a saucepan over medium-low heat to an internal temperature of 165 F. Add broth, water, or heavy cream to loosen the consistency and adjust seasonings as needed.