Arroz Valenciana is a hearty and tasty Filipino dish made of glutinous rice, coconut milk, chicken, Chorizo de Bilbao, and saffron. It's colorful and festive, and perfect for holidays and special occasions!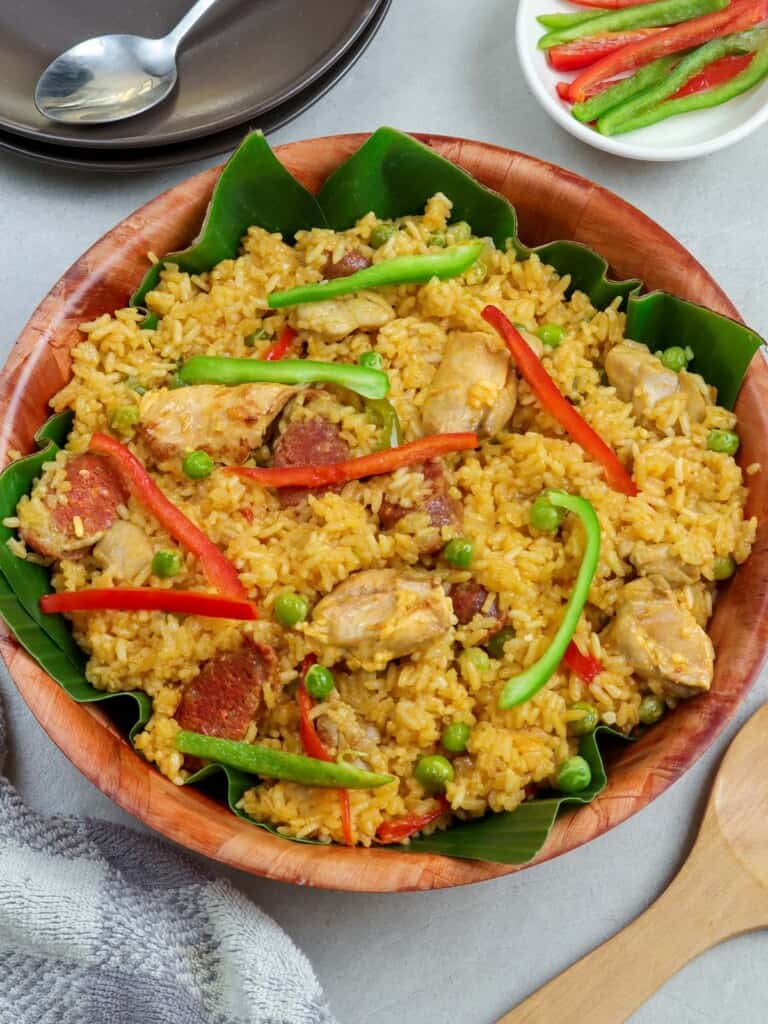 What is Arroz Valenciana

Ingredient notes

Cooking tips

How to serve and store

More rice dish recipes

Arroz Valenciana
Less than three weeks to Christmas! Can you believe it? It seems just yesterday when 2019 rolled in, and we are now in the last month of the year. Ugh, time, you move too fast.
Anyway, I am knee-deep working on new recipes for this season's festivities. I already have quite a few ready to go and I am rushing to get them up on the blog in the next few days so you'll have plenty of time to plan your Noche Buena menu.
Along with this Arroz Valenciana, we have, so far, ube biko, special mini sapin-sapin, and lechon manok already posted. I hope you check back here daily and find something tasty to make for the holidays.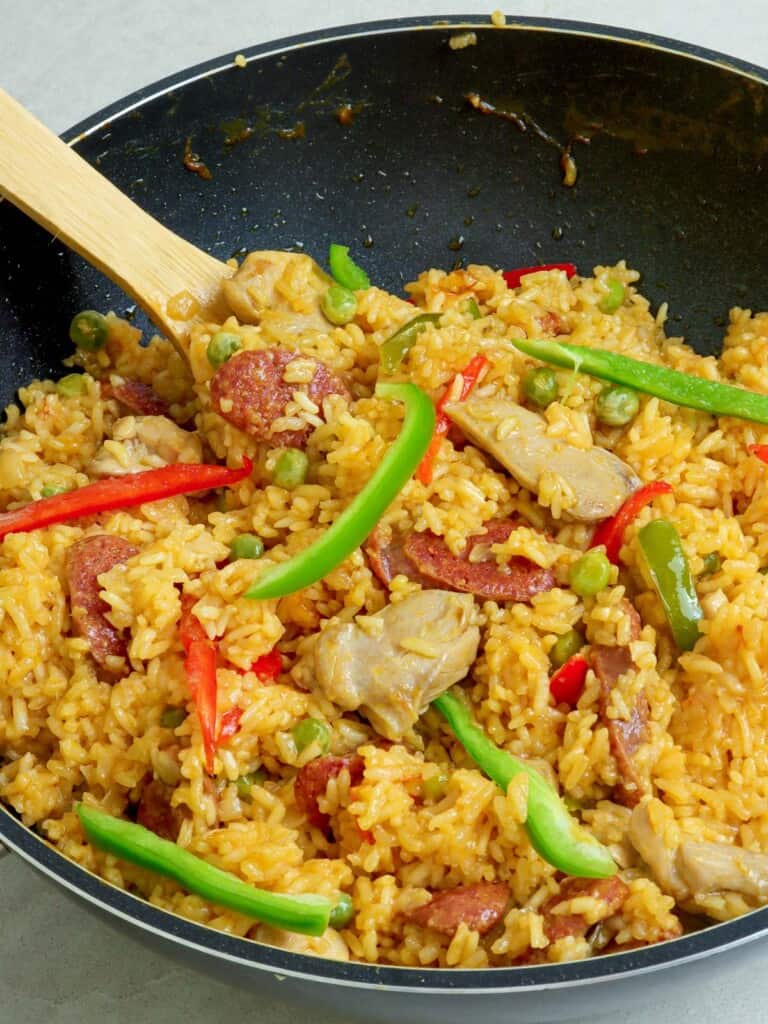 What is Arroz Valenciana
Arroz a la Valenciana is another example of Spanish influence in Philippine culture. Brought to our shores by three centuries-long colonization and adapted to fit indigenous ingredients, this one-pan rice dish is made with parts glutinous and long-grain rice, coconut milk, chicken, chorizo de bilbao, and spices.
Although traditionally served during Christmas, fiestas, and other special occasions, it's easy enough to prepare for everyday dinner meals. As with most dishes, modes of preparation and ingredients may vary from one cook to another, from one region to the next.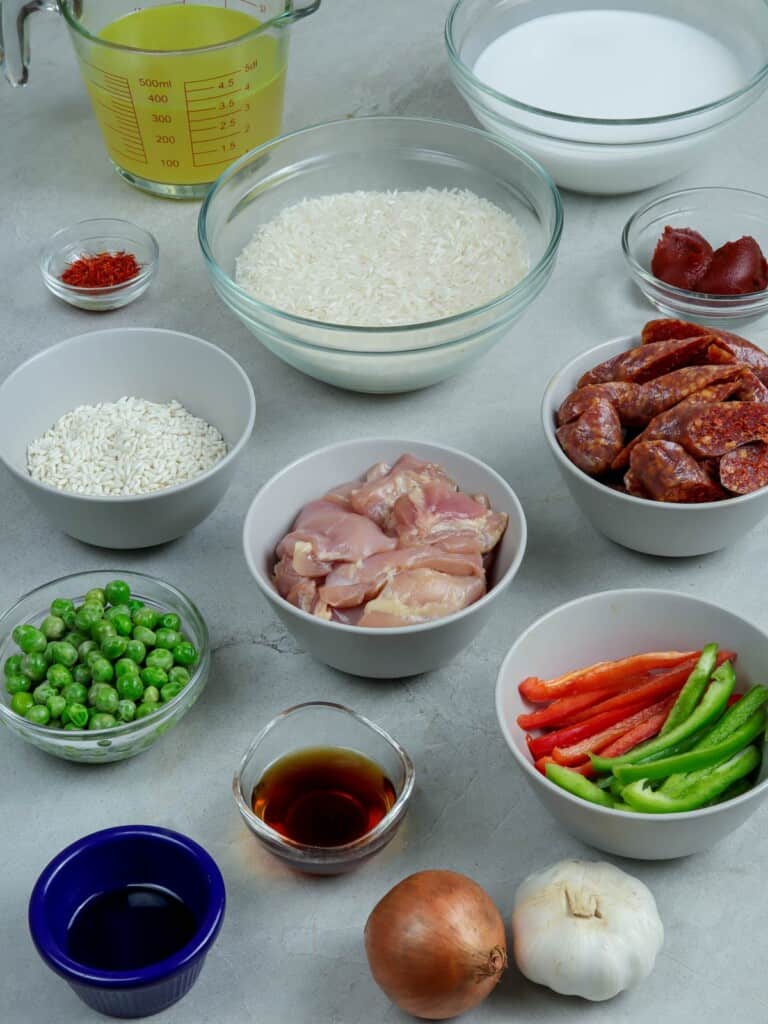 Ingredient notes
Arroz Valenciana can be as simple with just chicken and sausage as in this recipe or a more elaborate affair with seafood, pork, beef, duck, or even game meats.
It's also common to add vegetables such as bell peppers, cubed potatoes, fresh tomatoes, and green peas for color and texture.
To amp up the presentation, you can garnish the dish with bell pepper strips, carrot florets, chopped green onions or parsley, lemon wedges, and hardboiled egg slices.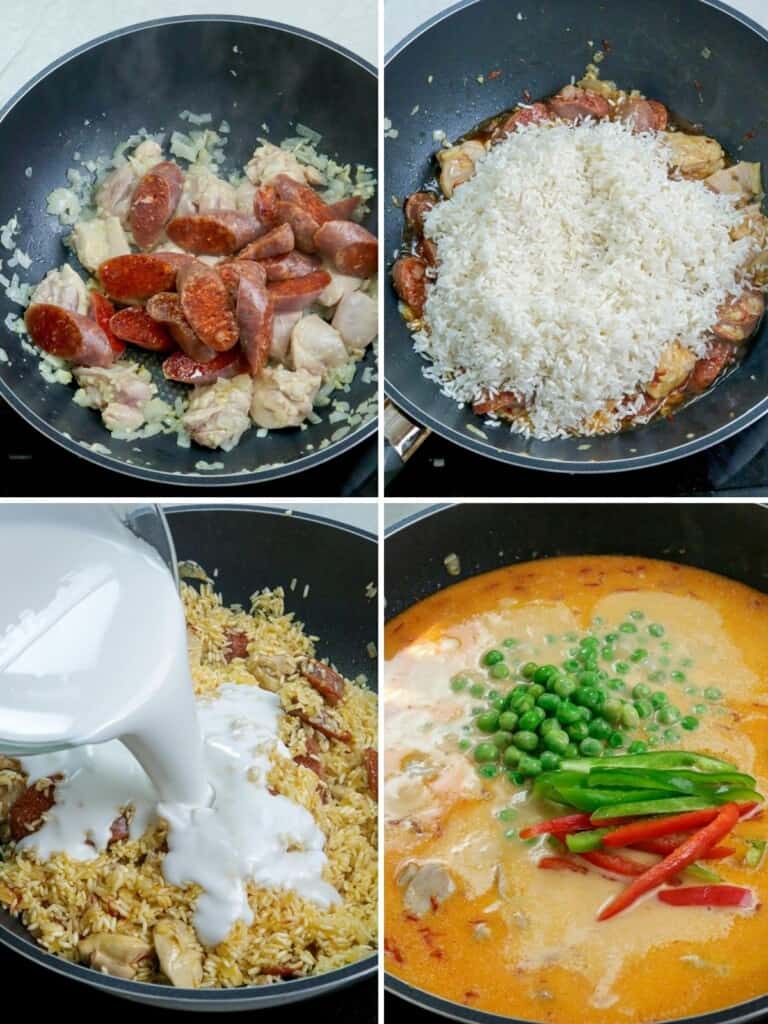 Cooking Tips
Drain the rice well using a fine-mesh sieve as the excess liquid might affect the cooked texture.
The recipe calls for boneless chicken thigh meat for use of preparation; feel free to swap with bone-in chicken parts.
Saffron gives the dish its distinct color and flavor, but use it sparingly as it's a very strong spice and has a bitter taste. For a more economical option, substitute safflower or locally known as kasubha.
Use a large enough cookware for the rice to have enough space to expand. Make sure it has a tight-fitting lid so the steam doesn't escape.
After the rice is cooked, let stand, covered, for about 5 minutes before fluffing to absorb the extra moisture.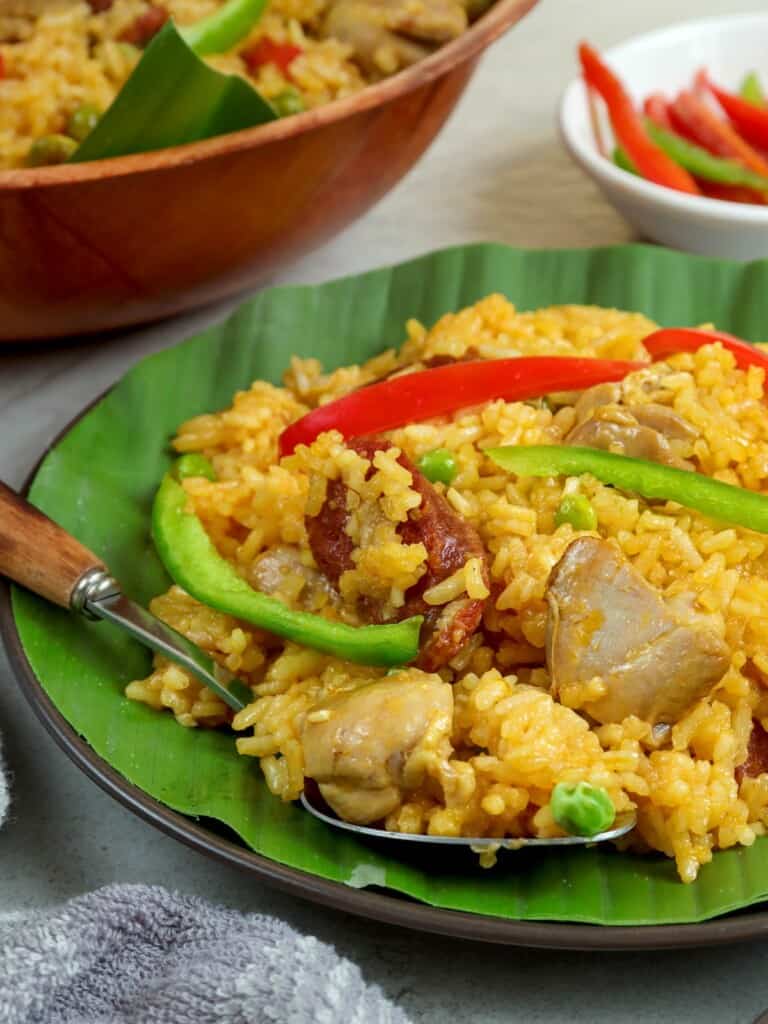 How to serve and store
Arroz Valencia is a great addition to your regular dinner rotation as well as holidays and special occasions. It's a hearty one-pot dish that's a festive as it is delicious!
Do not keep outside of refrigeration for too long as it contains coconut milk and protein-rich ingredients and will spoil rather quickly. Discard if left outside of refrigeration for more than two hours, or less at warmer weather.
Store leftovers in container with a tight-fitting lid and refrigerate for up to 3 days or freeze for up to 2 months.
Reheat in the microwave at 2 to 3-minute intervals until completely warmed through.